Episodes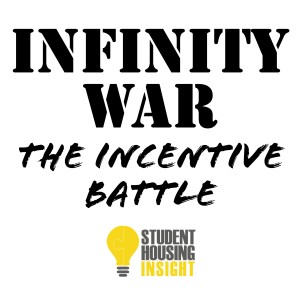 Tuesday Feb 05, 2019
Tuesday Feb 05, 2019
Gift cards, free electronics, concert tickets, free rent... does it ever stop!!!  Student housing providers seem to throw more incentives at their lease up efforts every year.  We seem to constantly be on the search for what is going to hook students and help our property promotions stand out in the noise.  But does it really have to be this way?  And is it just the fight to lease-up first that is driving everyone's fear or is it something deeper?  In this episode we unpack the craziness that our industry seems to be obsessed with.  Gretta sits down with Ryan Sundling of Cardinal Group Management to peel back the layers of insanity related to promotional incentives and they begin a discussion on how properties can reel back from giving away the kitchen sink (hmm, wonder if that would actually work???).
This episode is sponsored by AIM Cruise Incentives.  Want to offer an incentive that prospects see a 10X value over your actual expense?  Contact Aim Cruise Incentives at www.aimcruise.com.
Contact the co-hosts at contact@studenthousinginsight.com.
Looking for a knowledgeable and experienced student housing expert team, contact Wes at Providential Student Housing regarding consulting & due diligence services. Wes@ProvidentialStudentHousing.com